LAST WILL
A last will and testament is a vital first step in getting prepared for an estate plan. The will helps determine who will be in charge of your estate and what powers they will have. If you're overwhelmed at the prospect of writing a will, Heather Lynn Law, APC is an experience Rancho Cucamonga estate planning attorney that can help get you started.
A last will and testament enables you to decide who will inherit your property and how they will receive it. Those who inherit your property are deemed your beneficiaries. A will also allows you to set up guardians for your minor children.
It is important to keep in mind that while a will is a crucial first step, and is absolutely better than having nothing, it will NOT help you avoid probate if your estate has a value over $150,000. Therefore, a complete estate plan should include both a will and a living trust to truly protect you.
JUST A FEW THINGS:
SET UP WHO WILL DISTRIBUTE YOUR ASSETS
DETERMINE YOUR BENEFICIARIES AND WHAT THEY WILL RECEIVE
PROVIDE GUARDIANS FOR CHILDREN
CREATE AN ESTATE PLAN IN RANCHO CUCAMONGA
Here at Heather Lynn Law, APC, we are committed to helping the residents of Rancho Cucamonga and San Bernadino county create an estate plan for their family's future. It is a long and intricate process, involving the creation of a will, picking a trustee, choosing health care directives, giving power of attorney, allocating property, filing beneficiary forms, considering life insurance, covering funeral expenses, and much more.
When you hire us, you get a practiced and professional Rancho Cucamonga attorney in your corner. We know the ins and outs of the law and can ensure that your estate planning goes as smoothly as possible. To begin an estate plan, we start with our Rancho Cucamonga will planning service.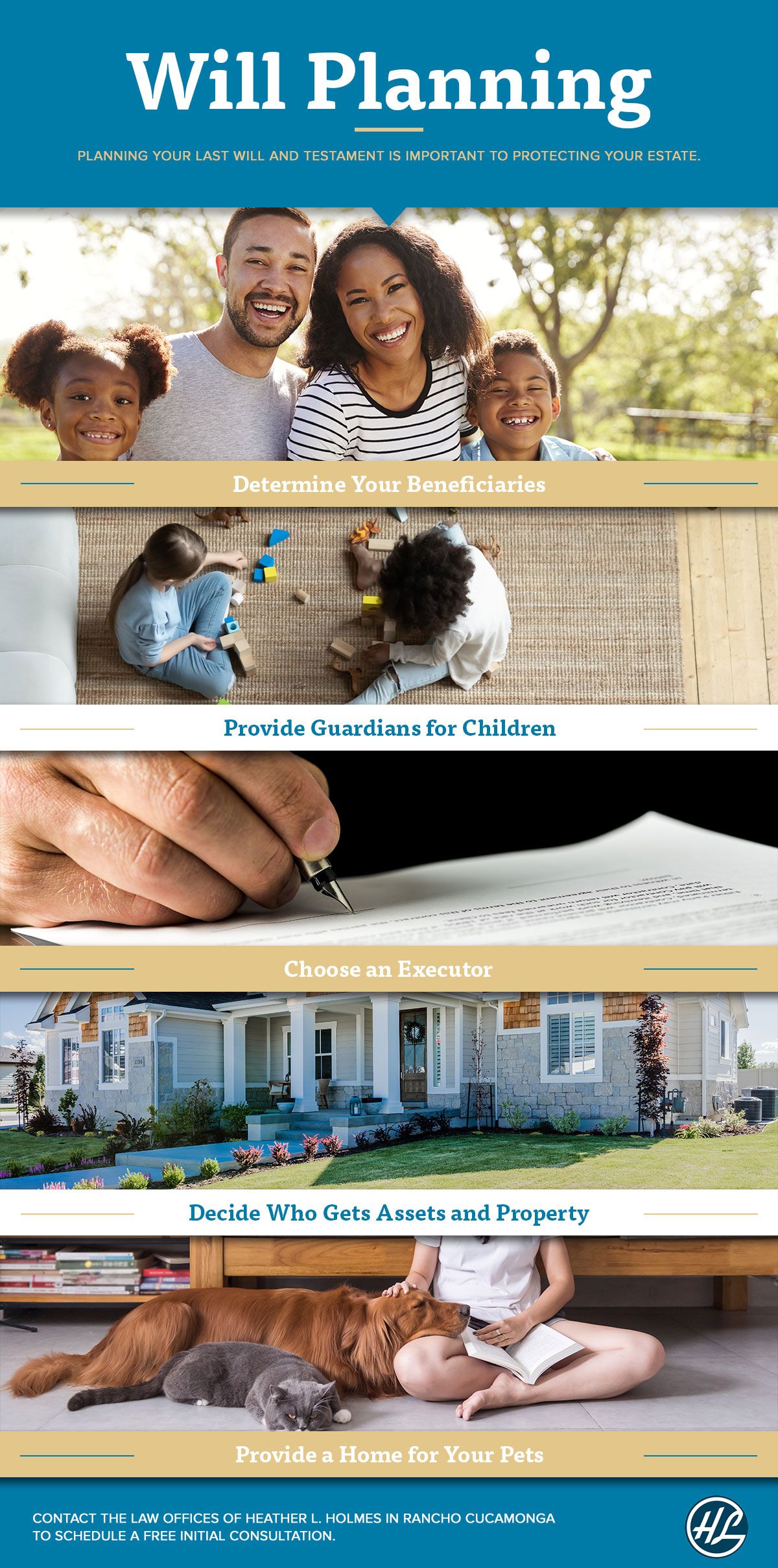 WILL PLANNING TIPS
Planning a will is a process on its own. Here are just a few tips that go over the process, and how to approach it.
Selecting Beneficiaries – Most people don't have to be told about beneficiaries, that's the whole point of a will. However, many people forget to update their list of beneficiaries as time goes on. This is something better taken care of ahead of time rather than in a rush.
Choosing an Executor – Someone will have to oversee how the will is carried out; this is the executor. The bank or an attorney is often chosen as executor, at a cost of between two and four percent of the estate on average. Family and friends are other great choices, although it is still recommended that they are compensated through the estate.
Picking a Guardian – It is not necessary to get permission before designating someone a guardian. However, if this is the case, it is recommended to list at least three different potential guardians in case the primary is unable to take custody.
Be Specific – A vague will is a useless will. The point of estate planning is to preempt any points of contention on the property so that it can be allocated smoothly. Any inconsistencies or broad wording can come back and cause trouble later. Heather Lynn Law, APC in Rancho Cucamonga can help.
CONTACT US TODAY FOR YOUR CONSULTATION
Please note, in person meetings are held in Fontana, California. Address will be provided once counsel has been retained