HEALTHCARE DIRECTIVE ASSISTANCE
Protect Yourself and Your Loved Ones in Rancho Cucamonga
LEGAL MEDICAL DIRECTIVE SERVICES
In the event that you become incapacitated, do your loved ones know what your wishes are regarding your medical care? Will your estate be handled as you see fit? If you're not sure what the answer is to either of these questions, then it's important to seek assistance with legal medical directive services from Heather Lynn Law, APC in Rancho Cucamonga. Our Top Rated Local® estate planning attorney can help you decide how to best handle these questions and more. Contact us today to get started.
IT'S IMPORTANT TO MAKE SURE THAT YOU HAVE A HEALTH CARE DIRECTIVE IN PLACE SHOULD ANYTHING HAPPEN TO YOU. A HEALTHCARE DIRECTIVE HELPS WITH A NUMBER OF THINGS, INCLUDING:
Inform others of your health care wishes
Appoint an individual to decide for you if you are unable
Expresses your values and desires related to end-of-life care
Can be adjusted as your health or situation changes
Reduces the likelihood of a dispute among family members
Helps you avoid unwanted procedures
Health Care Directive Assistance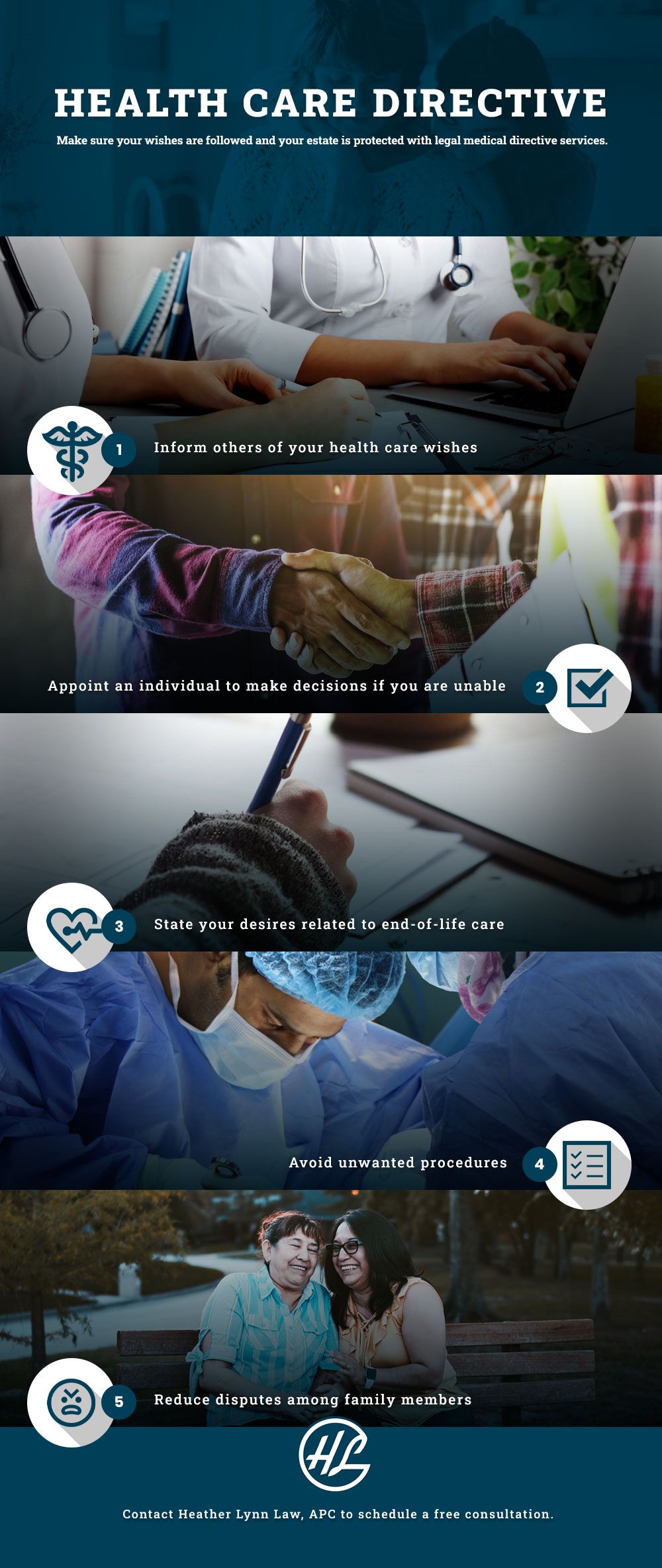 ADVANCED HEALTHCARE DIRECTIVE SERVICES IN RANCHO CUCAMONGA
While no one really wants to think about it, there may come a time when you are unable to take care of yourself or even tell your loved ones how you want your health care to be handled. In the event that you are incapacitated, an advanced healthcare directive will take care of this and other items for you. It functions as a living will, which means it can be adjusted as your health or situation changes. You can rest assured that you will not receive any medical services that go against your personal wishes or religious beliefs.
YOUR TOP RATED LOCAL® ESTATE PLANNING ATTORNEY
At Heather Lynn Law, APC, we know that it can be difficult to think about these types of situations, but our estate planning team is here to provide the caring and compassionate assistance you need to ensure that all of your wishes are met and that your loved ones are taken care of. Contact us today to learn more about healthcare directives, and let our estate planning attorneys help you craft the medical directive you want.
CONTACT US TODAY FOR YOUR CONSULTATION
Please note, in person meetings are held in Fontana, California. Address will be provided once counsel has been retained