DURABLE POWER OF ATTORNEY
Unless you add this durable provision, a power of attorney becomes ineffective once its grantor dies or becomes incapacitated. A durable power of attorney is a legal document that allows you to appoint an agent to represent you in financial matters in case you become mentally incapacitated. Heather Lynn Law, APC in Rancho Cucamonga is here to help you prepare for all unfortunate realities. In the case you become incapacitated, you want someone you trust making these decisions for you.
You could also make the decision to appoint an agent now if you are needing the help or assistance because of age, health, or disability. You can place limits on the power of attorney. This is a way to protect yourself to make sure your bills, expenses, and necessities are provided for and taken care of. We are also available to help with advanced health care directives to help the ones you love ensure your medical needs are taken care of should you become incapacitated.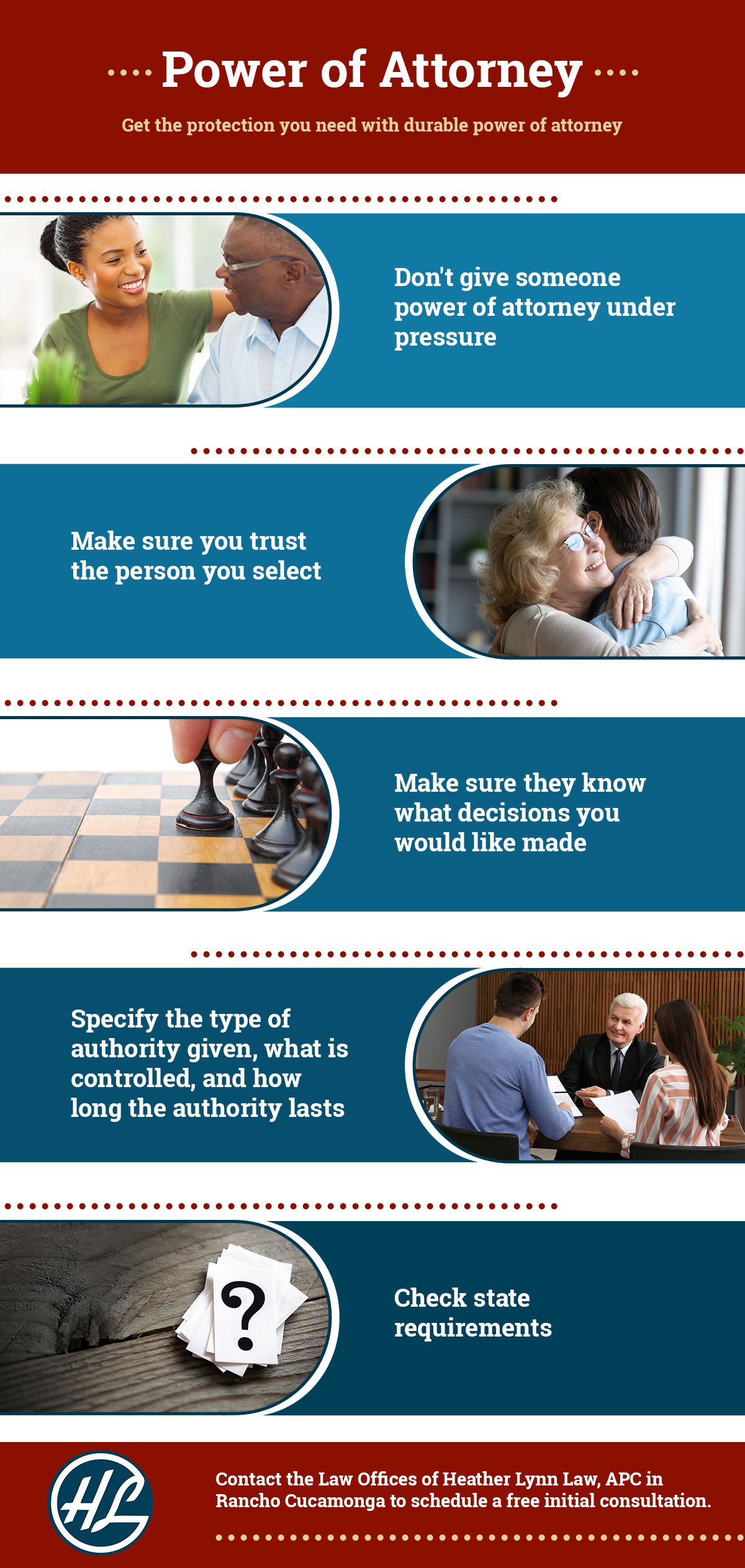 TIPS WHEN CHOOSING POWER OF ATTORNEY
Any type of legal action should be carefully considered before taken. Here are some tips when choosing power of attorney for your investments.
No Pressure – Giving someone power of attorney gives them the power to make important financial decisions with your savings, and even make health care decisions in the event of incapacitation. Because this responsibility is so important, it must never be given under pressure. Don't sign any contracts under strict time limits or before getting a second opinion. If you are looking for more information on the power of attorney, FINRA has a Securities Helpline for Seniors at 844-547-3577.
Trust – It is very important that you trust the person that you're giving power of attorney to. Not only do you need to trust them, but they need to be aware of what kinds of decisions you would like made in any given situation. Remember, this is the person that might need to make important financial or healthcare decisions for you in an emergency.
Durable – A "durable" power of attorney is one that isn't rescinded when a person is incapacitated. It's important that power of attorney be durable, because a moment of incapacitation is when it will be needed the most.
Be Specific – The authority granted by the power of attorney needs to be as specific as possible. It should indicate the type of authority given, what all is controlled, and how long the authority will last. If there is confusion later on about what powers are granted, the entire POA could have its validity questioned.
Check State Requirements – Each state has different power of attorney requirements. If you hire a professional, like with our trusted legal services in Rancho Cucamonga, they will be able to walk you through your state's laws. This ensures that your power of attorney can be implemented.
CONTACT US TODAY FOR YOUR CONSULTATION
Please note, in person meetings are held in Fontana, California. Address will be provided once counsel has been retained